So now you've setup your new Bidvertiser Advertiser account, you need to create an ad. You should see something like this:

Now you can either follow the button Create New Ad, or you can use the option just below the ADS CENTER tab near the top of your account.
Your First Ad
For your first ad in Bidvertiser you can choose either a basic native (text) ad, or a pop-under ad. Don't worry, this is just to help you get started, once that first ad is created you'll be able to access all the ad types, and you don't have to run that first ad if you don't want to!
Creating that first ad is easy, first simply select which ad type you want from the 4 available options.
Ad type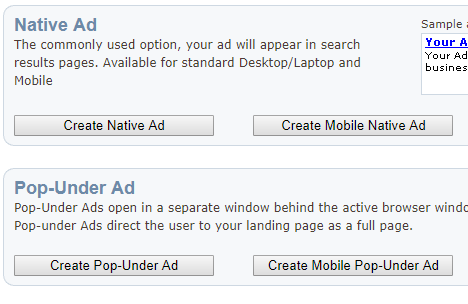 Native Ad = A simple text ad, containing a Title, 2 lines of description, and a Target URL, it can also have an attached image for special circumstances. The Mobile version targets mobile devices (phones, tablets etc). This ad can be highly targeted using keywords to ensure it shows only on relevant search results.
Pop-Under Ad = This ad type opens a new tab/window to the visitor, in which your website is displayed. Great for high volume, low cost traffic. These ads are RON (Run of Network) meaning that they can be shown to anyone in the country you have selected. Please skip straight to the Country Selection in this article if you have chosen this ad type.
Keywords
Now you should see our Search Network Targeting options. Here you can select RON (Run of Network), which potentially displays your ad for any search we receive from within your targeted country, or you can select keywords for which to display your ad.
On the left you can see our keywords tool, and on the right, the box in which you see your selected keywords. We show you how much traffic each keyword is getting, and you can search for and then add the keywords you wish to display Please note that our keywords are done with a broad search, this means that if you write the word "money" your ads can be displayed in any search that has the word "money" included.
Country selection (Geo Targeting)
The next step is to choose which country you wish to target this ad to. Please note you can only select one country per ad, this is because different countries often require different bids in order to display, and by only allowing one country, we can ensure that you have the most control over your ad.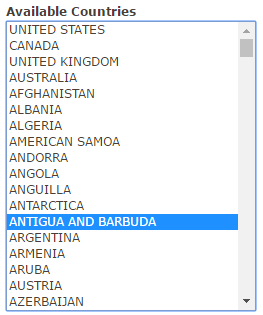 Once you've picked one, please click Next.
Setting the bid
Now we set the max bid, this is the maximum amount you are willing to spend per click on your ad (or each time your website is loaded in a new window for a pop-under ad).

In the image above you can see where you place your bid, the average bid for the ad type and country selected for RON traffic, and the daily traffic estimate for the top RON bid. Please note that if you are using keywords, this will reduce the amount of possible traffic, as well as increase the competition (and therefore the required bid). Once you have selected your bid, please click Next. You can of course change this again later
Putting in the Ad Content
Now you need to fill in the details of your ad, for some these will just be the name you want to use and the URL, for other ad types it will require a bit more description, or the uploading of images. You also have the option here for adding our tracking codes, we'll go into this in more detail in another article.
Daily Budget
Now we set our daily budget for the ad, you can select no daily budget, which means the ads will display constantly getting as many clicks as possible, until your funds run out, or you can choose to set a Daily Budget for the ad (minimum $5).

Please note that some ad types receive huge amounts of traffic in very small timeframes, especially if a high bid has been set. This can mean that the daily budget can be exceeded (in rare cases by a lot) as our systems can only react so fast, and if the ad is primed to be delivered, but not yet delivered, it can still get sent through (and charged for) even if the limit has been reached.
That's it! Now you need to fund your account.