The recommended minimum bid feature will show if your bid is below our recommended minimum bid. This is the bid that should at least start to get you some traffic. These minimums will show for each geo you have selected.
To view this, please hover over the exclamation mark in the triangle, next to the bid of the ad you wish to check. If this symbol does not show, your bid is already sufficient.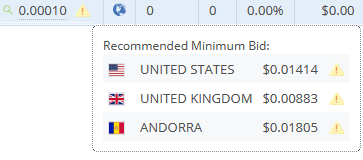 As you can see, the recommended minimum can vary between countries, this is why we'd often recommend having a separate ad for each Geo you wish to target, as this will prevent all your funds being spent in a single Geo.