With the new Bid Analyzer, you can view real-time system bids for the exact targeting of your campaigns. Once you are logged-in, you will find a new "Analyze Bid" column with a little magnifying glass icon that will allow you to run the Bid Analyzer for the specific campaign.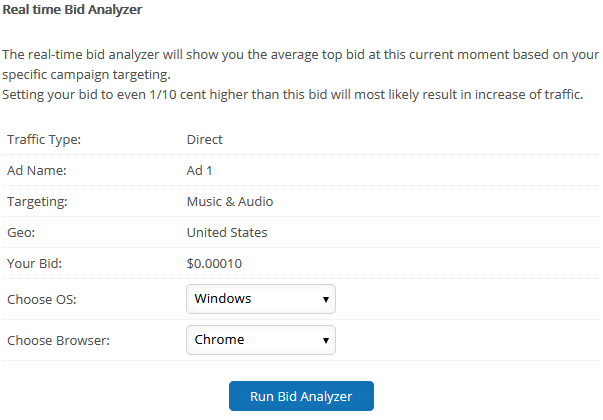 Here the bid analyzer will assess these factors:
Ad Type (Native, Direct. Pop)
Geo (Country)
Targeting
Operating System
Browser (User Agent)
Those that have a variety of options, will give you the choice as to which you wish to use.

This way, if you have a certain campaign that is working well for you. you can now figure our very quickly which bid is required to get more of the quality traffic that you want.

Better than that - the new Bid Analyzer also works on the Source ID (subid) level. This means that you can now check real-time source ID bids directly from the subid report in your account. This will help you bid wisely on specific subids that are converting well for you - and make sure that you have set top bid so you can win more of that traffic.
To run the Bid Analyzer on the subid level, simply open the "Analytics" report or click the specific campaign.
Don't miss the opportunity to get the traffic that you need, from the subids that you want!
As always, if you have any question, please open a support ticket or contact your account manager.