Auto Optimization is a very powerful feature that can allow you to setup fully automated optimization of your ads. Setting bids, blacklisting poor sources, meeting conversion targets etc etc.
In order to enable this, conversions must be tracked by the Global Postback system. Please make sure that you are comfortable with what you are doing, and this system is setup and working correctly before proceeding.
To access the auto optimization options, please go to the Advanced settings,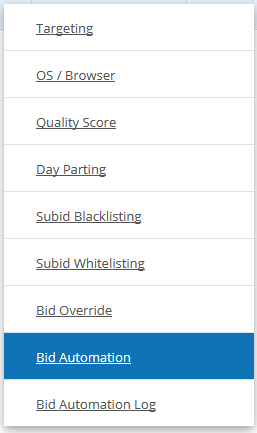 Once selected, a new window will appear, giving all the options required for the automation to work.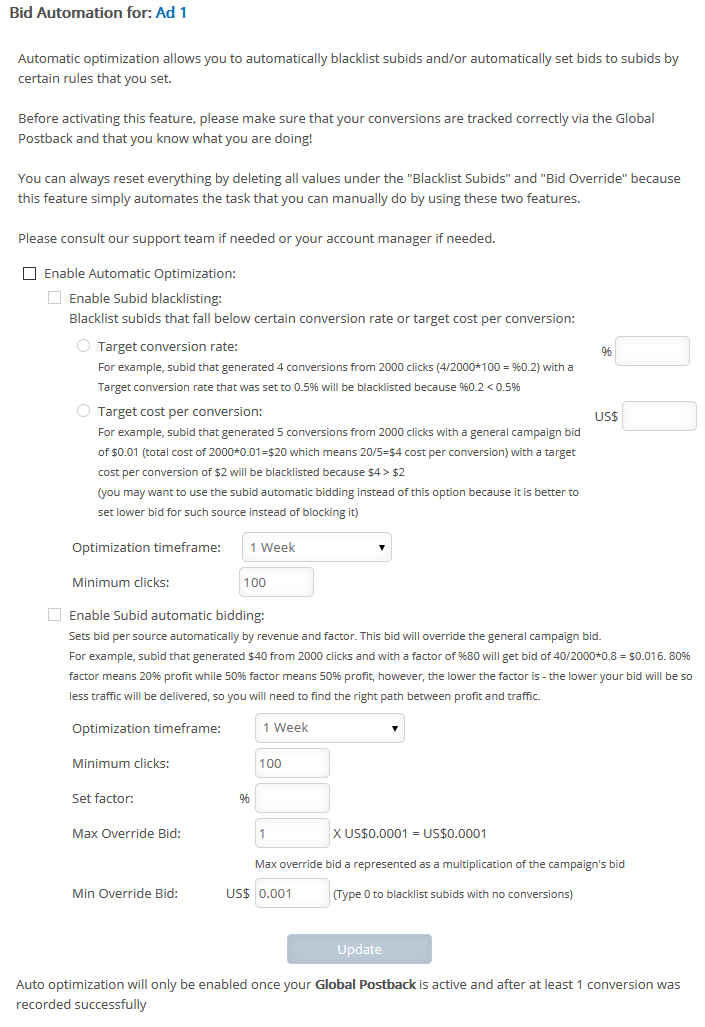 There are two main sections to the auto optimization process. The first is:
Enable SubID blacklisting
This will enable our systems to remove traffic sources from sending your ads traffic. There are two options to remove the traffic sources. The first is targeting a particular % of conversions, if this % isn't met by a source then it will be removed from sending that ad any more traffic. The second is a target cost per conversion, if a source does not meet this target, it will be removed. Normally we'd recommend using the second type of automatic optimization here, which is:
Enable SubID automatic bidding
This option will automatically set bid levels for each source, according to a profit factor that you set. This means you won't miss out if a source improves in quality, or if it can supply large amounts of cheaper traffic that doesn't convert so well in terms of % of clicks, but is still potentially profitable.
Timeframe and clicks
You will need to set the timeframe and number of clicks, you want the auto-optimizer to base it's results on. Obviously the larger amount of data, the more accurate the results should be, but equally potentially the slower the optimization. Different campaigns will likely need different timeframes and click numbers to find a sweet spot.